Fred Saberhagen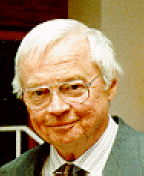 Fred Saberhagen is the author of several popular science fiction and fantasy series. His Berserkers® have menaced the universe for almost 40 years. Fred's SWORDS and LOST SWORDS stories have caught the imagination of many fantasy readers. Less well known, but equally intriguing are Fred's exploits in the area of historical fantasy where figures such as Hitler and Lincoln, Daedalus and the pharaohs, populate his alternate worlds. On the border of history and fantasy Fred has created a unique picture of an old favorite, Dracula. More recent is the BOOK OF THE GODS series, a new telling of the ancient myths. Many of his works also appear in tape and e-book format.
Before abandoning himself to imagination, Fred served in the US Air Force, worked as a civilian electronics technician, and wrote and edited articles on science and technology for the Encyclopedia Britannica. Fred was born and raised in Chicago. He now lives and works with his wife, Joan Spicci, in the Land of Enchantment, Albuquerque, New Mexico, USA
Crescent Blues Interview with Fred
Going Berserk with Fred Saberhagen
"Science fiction author Fred Saberhagen was really onto something when he hit on the idea of automated death machines roaming space. One short story has led to a three-decade long Berserker series of books about these menacing enemies of humanity. Craig E. Engler takes a look at Saberhagen's hit tales." -Amazon.com
The Taj, Official Fan Site of Fred Saberhagen's Berserker Universe just posted "Berserker Story," which is a short non-fictional piece by Fred Saberhagen which was only ever published once, in the Summer-Fall 1977 issue of ALGOL Magazine.
Also from The Taj, Art spawned from the Berserker series
---
Want to get more involved with the planning? Want to suggest panel topics or events for Fred? Join our Saberhagen brain trust and help us plan.
To join the brain trust:
| | |
| --- | --- |
| Post message: | Saberhagen_Cascadia@yahoogroups.com |
| Subscribe: | Saberhagen_Cascadia-subscribe@yahoogroups.com |
| Unsubscribe: | Saberhagen_Cascadia-unsubscribe@yahoogroups.com |
| List owner: | Saberhagen_Cascadia-owner@yahoogroups.com |